Watching programming language popularity is one of my hobbies. The TIOBE index Nov 2014, shows some interesting trends. Let us take a look.
Click on these images to see a full page view.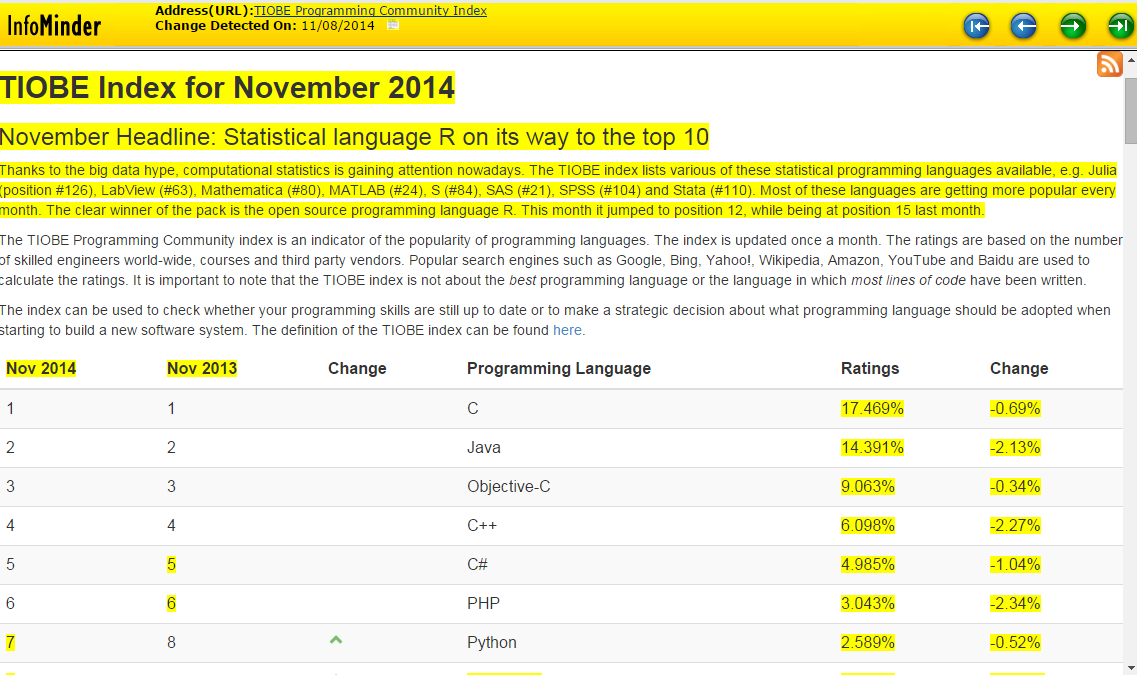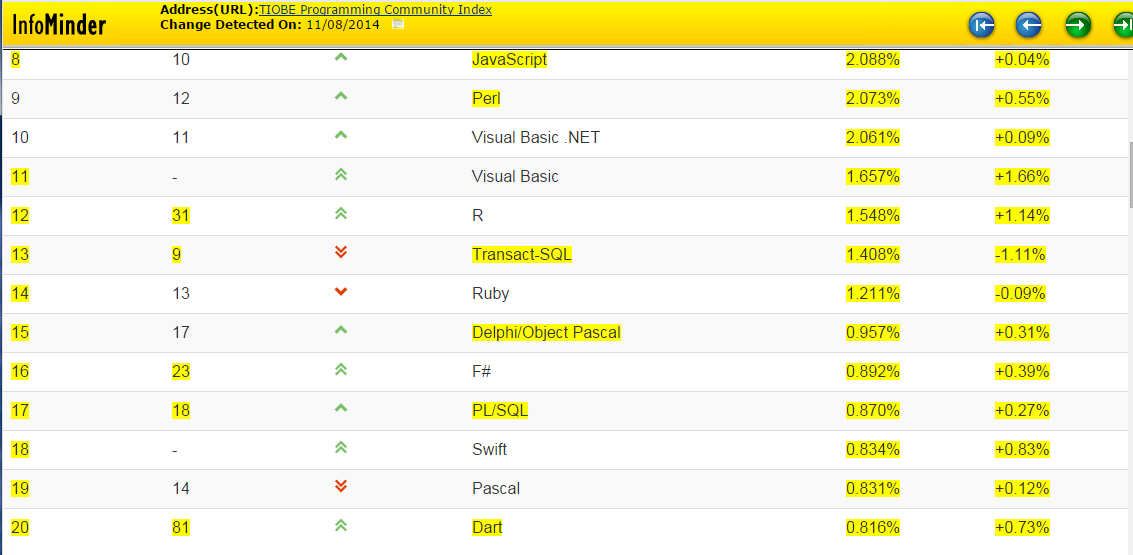 This para from the TIOBE is worth noting.
Thanks to the big data hype, computational statistics is gaining attention nowadays. The TIOBE index lists various of these statistical programming languages available, e.g. Julia (position #126), LabView (#63), Mathematica (#80), MATLAB (#24), S (#84), SAS (#21), SPSS (#104) and Stata (#110). Most of these languages are getting more popular every month. The clear winner of the pack is the open source programming language R. This month it jumped to position 12, while being at position 15 last month.
Other trends:
The top 7 languages (from a year ago) retain their spots, but all of them drop a bit in popularity.
Dart, a programming language from Google,  jumps into Top 20 from a previous rank of #81. Dart is language for  building web and cloud apps.
Swift comes from nowhere and enters #18 spot. Swift is a new programming language from Apple for iOS and OS X.
Perl and Visual Basic.NET stay in Top 10. It will be interesting to watch their moves.
F# keeps moving up (from #23 to #16)
Watch the Top 50 languages (#21-#50). Some of them are leading indicators to future of computing.
To see potential new entrants into Top 20, you may want to watch the other languages in Top 50 in the  TIOBE site.
I expected Scala to be in this list but for some reason, I don't see it. I think it will soon move up into the Top 20 list.
Three SQL dialects are still in Top 20. I am not surprised by that since SQL is still one of the most popular languages for database programming.
I keep hearing a lot about Julia. I will be watching it with interest.
The images in this page are from InfoMinder. InfoMinder is a tool for tracking web pages. I use it to track a few interesting pages on the web. When InfoMinder detects change in a page, it highlights it  and creates a new changed page. It is one of the tools we built over a decade ago and is still chugging along, helping me and others watch the web.