In US 19th Oct is the National Day on Writing. Last year was about "Why I write" and this year is about "What I write". Here is a blurb from the National Writing Project Website
What do you write or compose? Blog posts? Poems? Videos? Grocery lists, computer code, or song lyrics? Whatever you write, on Friday, October 19, use the hashtag #whatiwrite to share your compositions with the world as part of this year's National Day on Writing.

Join the Celebration

"What I Write" builds upon the success of last year's "Why I Write" social media campaign, during which thousands of people—youth, educators, published authors—tweeted out their many reasons for writing. This year we have an ever-growing list of collaborators
In the spirit of "Writing Day", here is my little post on what I write.
What I write is fairly well reflected in this Category Cloud. Ideas and Innovation dominate the topics followed by a sprinkling of others. I am interested in how people learn and teach, about Intelligence. Since my company works on tools for Information Intelligence, there is a sprinkling of topics on Information as well.  This is my main blog.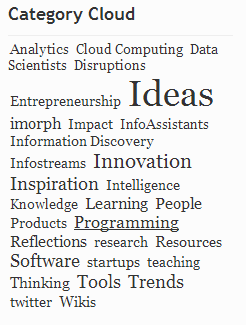 Here is a link to Why I Write (from last year).
Meta:
Why have a day for writing? It should be every day. But like Father's Day and Mother's Day and Teacher's Day, dedicating a day to recognize some one or something is a great idea.